Upcoming for 2015
September 18, 5:30-7:30 PM; Art Making and Anniversary Party
Location: Pure Juz juice bar, 123 Highland St., Worcester MA
Join the fun building an all-plastic art installation for the chain link fenceoutside Pure Jus. Sue will bring HUNDREDS of plastic lids and caps to make flower decorations with, along with the colorful hubcaps from her ReinCARnation Hubcap Lily Pads that floated in Elm Park's Art in the Park exhibit it 2013.
September 20-30: Mural Making in Binghamton NY
Sue will be painting a mural for the Dept of Public Art's Derelect Building Program. There will be a number of evening workshops that week, check the DEPT OF PUBLIC ART FACEBOOK page for times and location.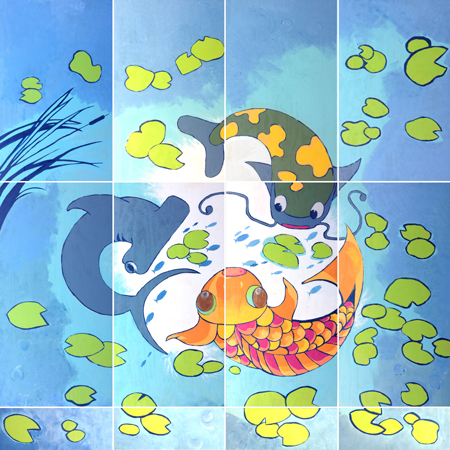 October 15-November 30, 2015
Working on a new series of spray painting murals in Pahoa, Hawaii.
May 1, 2016: Hilo Lei Day Festival
Make the Giant Lei Plastiki even longer and create new kinds of flow forms from laundry and water bottles.