Aug 25: Setting out from Worcester MA. In Sue's Honda fit: Sue, Chris, 63 hubcaps, floatation, canoe, first aid kit, anchors, waders, guitar.
Aug 29: The crew assembled at 8 AM in the Publix Supermarket parking lot. Elan and Jenny, both Beltline employees, cleared the 6 foot high brush with machetes.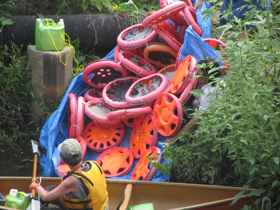 I laid out tarps and zip-tied the hub-cap lily pads together. Then I climbed in my canoe to receive the artwork.
Jenny, Yvonne, and Chantelle (Light Parade artist) dragged the tarps full of hubcaps down the 10 foot embankment into the water.
I towed the lily pads into place and tied off the anchors. Getting the weights (laundry bottles full of 40 lbs of sand) out of the canoe without tipping over was a challenge! The entire thing, including brush clearing, took 4.5 hours to complete.
Aug 31: while photographing the lily pads, I zoomed in on an annoying leaf -- only to discover it was a FROG! The Hubcap Lily Pads are now successfully occupied by wildlife.